Schedule A 30-Minutes Free Counseling Call
Schedule A 30-Minutes Free Counseling Call
Coaching spots available. book your FREE discovery call now!

I will love to support you in your journey to better sex, pleasure, intimacy, and more connection.
My Journey
A client of mine recently posed a question, "How did you decide to get into sex and intimacy coaching and education?" followed by "Well, you must get to hear a lot of weird stories"
I smiled at their question; it wasn't the first time someone had asked me this.
I entered this profession because I'm on a mission to help women & couples truly enjoy their sexuality, pleasure & build authentic intimate relationships. One of my friends once consulted with a therapist for her sexual problem, and usually one expects a person to feel better after visiting a therapist. But lo and behold! She was more distressed when she came out of the session. Reason? The therapist judged her for her active sex life.
I have realized that most of us had a bouncy journey in our intimate and sexual life because of loaded sexual taboos, misinformation, and absence of healthy discussions.

To breaking Taboos around sexual pleasure and enhancing sexual wellness
Our society holds a conservative and backward-looking attitude towards sex and disregard its importance a core aspect of our well-being! But sexuality is an integral part of our identity and life experiences, starting from our birth.
We were born because our parents had sex.

Sexual Problems are universal
Lot of clients ask me "I know I am the only one". It's not true, whatever the challenge you are facing around your sex life or sexuality, there are thousands and millions of people going through the same. However, the fear of judgment make people suffer in silence.
Which is why I decided to work in sexual and relationship wellness. I impart practical sexuality and intimacy counseling and education to help you resolve sexual problems and transform your sex life and intimate relationships.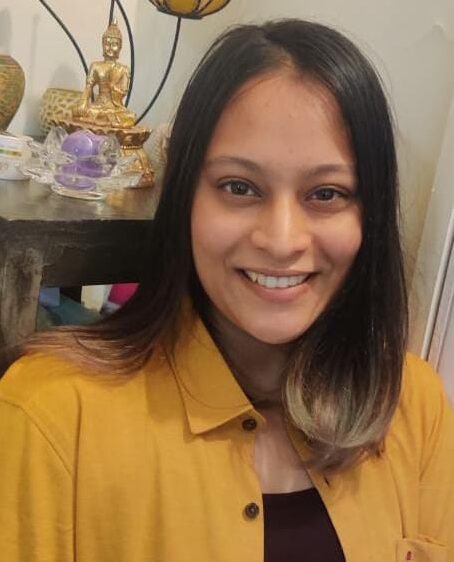 Psychologist, Sex & Pleasure Educator
Jahanvi Agrawal is a psychologist with specialisation in clinical psychology. She works with adults from ages 18 – 40, and is also open to other projects. Jahanvi takes a humanistic approach to therapy with a keen interest in sexual-mental health and wellness.
Jahanvi's approach to psychology is humanistic-based. She loves to look at things from various perspectives; understanding what gave rise to a situation or an activity. She believes that understanding different perspectives allows us to be more empathic and free ourselves from the preoccupation of the said situation.
Sexual and relationship problems, you can schedule a counseling with me:

Free 30 minutes counseling call – add to explore your questions and doubts on sexuality, and relationships.
Coaching Consultation Client
Over a period of a year, I had seen a few therapists to address my issues. With invariably unsatisfying results, I was extremely skeptical about seeing another therapist. Moreover I was hopeless about the possibility of finding the right solutions. After consulting with Jahanvi, my scepticism proved unfounded. I only wish I had found her sooner.
Coaching Consultation Client
Jahanvi helped me to elucidate and articulate the origins of deeply embedded patterns of negative or confused thinking. She is patient and compassionate while being proactive and constructively challenging when she needs to be. Her process helped me to build the confidence to successfully resolve my issues and to take important strides forward in my relationship. I highly recommend her.
Coaching Consultation Client
I am grateful to have someone like Jahanvi on this healing journey. She listened to me, made me feel safe and comfortable. She helped me to recognise my patterns and is guiding me to work on it. Whether you are considering therapy for the first time or feeling like therapy is a dead end, I would blindly recommend you to reach out to Jahanvi.