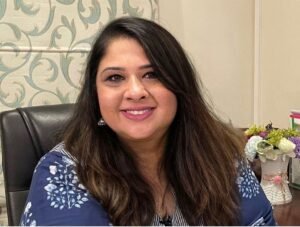 Senior Director, fortis la femme
University topper at Mater Dei 
Merit scholar at MAMC, 
Best postgraduate at Lady Hardinge 
Dr. Meenakshi Ahuja is working as a Senior Director – Obstetrics and Gynaecology in Fortis La Femme. She has chaired several sessions in various gynaecological forums and is a renowned personality in local & international circuits. She has been awarded the Pratibha Tiwari Gold Medal for her achievements as the best resident. Her area of clinical interests includes infertility management, endoscopic & laparoscopic surgery. She has been rated as Delhi's most non-judgmental gynaecologist by LBB.
Women are constantly striving to be able to discuss their health issues without being judged so that they can make safe and sound choices regarding their body. As a gynaecologist and obstetrician, I consider it my duty to not only manage & treat disease and abnormalities of the female genital system, but also provide this safe space and work towards women's health.
Adolescent health, Infertility, Sexual health, Pregnancy care, Menopause health, Endoscopic surgeries, Cosmetic Gynaecology
Testimonials of Real Patients
Stories That keep us Going
She totally turned around the experience of my pregnancy. I had a lot of nausea right through pregnancy. She inspires so much confidence, my pregnancy became the most pleasurable and memorable experience. Indebted to you ma'am. Words can't express the joy you have brought to us
Krithika Rangarajan
I am so thankful to Dr Meenakshi Ahuja. She is very experienced and very hardworking. She is so soft spoken and explains everything to the patients in detail. Her guidance made my journey to motherhood very easy and pleasant.
Anuradha Joshi
If you are pregnant you need a doctor who you can rely on and relax. And she is the one. She is always prompt in answering your question. She would explain everything in layman language
Sweta Chugh