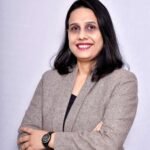 Dr Aditi
Singh
Physiotherapist
To empower women with right knowledge about their own bodies, to help them recognise physical issues such as pain and discomfort and to seek professional help. To empower health care providers to stop normalising women's health issues related to Pregnancy, Child birth, Menstration and Menopause. To promote the difference between 'common issues' versus 'normal issues' such as pain while having sex could be common but it is not normal.
Dr. Aditi Singh (PT), is an award winning accomplished physiotherapist offering women's health programs in Bangalore. She has been awarded as the Top Physiotherapist. She is also the founder of Revive Movement Science Academy which caters to quality education programs of Anatomy, Women's Health, Fitness, Biomechanics and other advance courses like Diastasis Recti Rehab, Prenatal Fitness for physiotherapists and fitness professionals.
Master in Physiotherapy (2005) – Hemwati Nandan Bahuguna Garhwal University
Pilates Certified Instructor (2011) – STOTT Pilates International Certification Center
Women's Health Physiotherapist (2012) – Indian Association of Physiotherapists Women's Cell (IAPWC)
17 years of clinical experience
Women health physio, Physiotherapist, Pelvic floor physiotherapist, Pelvic floor rehabilitation, Pelvic pain, painful sex, Pelvic floor dysfunctions, involuntary urine leak.